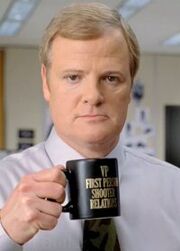 Kevin Butler
(portrayed by actor
Jerry Lambert
) was a marketing character used by
Sony Computer Entertainment
as part of their
It Only Does Everything
(2009–11) and
Long Live Play
(2011) advertising campaigns for the
PlayStation 3
in North America. He was also briefly used in the
Step Your Game Up
advertising campaign for the
PlayStation Portable
. He starred as the Vice President of various fictitious departments within the PlayStation division of Sony, responding to "Dear PlayStation" queries. Due to the positive reception of the commercials, Sony extended them throughout the remainder of 2010 as well as into 2011. The character was created by Deutsch/LA, the advertising agency responsible for the campaign. Deutsch/LA also manages Kevin Butler's Twitter account and wrote his E3 2010 speech. Creative Circus graduates Will Lindberg and Mark Adler are responsible for creating the "Hall of Play" Facebook application to induct PlayStation gamers into the Hall of Play by Kevin Butler.
The string of commercials starring Kevin Butler has been met with positive acclaim due to its humorous and lively tone. Gaming site Kotaku commented on the first two commercials that were released, "What we didn't mention is how funny they are." Sony Computer Entertainment America Senior Vice President Peter Dille said that the commercials have "been tremendously successful. Consumers love it. It's great to hear people like you guys love it. And the results are really in the sales because it's really been flying since this coincided in September with the launch of the new PS3." Engadget also loved the commercials saying, "We have to hand it to Sony, they've followed up nicely on their "worst kept secret" trade show jokes with an ad campaign that is fittingly self-aware." Destructoid praised the commercials, saying that they were much better than Sony's previous White Room series of ads, which was met with mostly negative reception, with most calling it "creepy." When Butler appeared at E3 2010, he was met with large praise from the audience.
Ad blocker interference detected!
Wikia is a free-to-use site that makes money from advertising. We have a modified experience for viewers using ad blockers

Wikia is not accessible if you've made further modifications. Remove the custom ad blocker rule(s) and the page will load as expected.