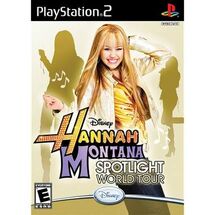 In Hannah Montana: Spotlight World Tour you can play as Hannah Montana singing songs and performing concerts around the world. You can perform in places in places like Brazil, Tokyo or Paris. You can help Hannah decide what to wear to the concert. You can sing up to 15 of Hannah's hit songs and shop for her in many famous places. This game will be on the PlayStation 2, Wii, and the Nintendo DS.
The songs that will be included in the game are:
Best Of Both Worlds
Who Said
Just Like You
Pumpin' Up The Party
If We Were A Movie
I Got Nerve
The Other Side Of Me
This Is The Life
Nobody's Perfect
Old Blue Jeans
Life's What You Make It
Bigger Than Us
You & Me Together
One In A Million
Make Some Noise
True Friend
Ad blocker interference detected!
Wikia is a free-to-use site that makes money from advertising. We have a modified experience for viewers using ad blockers

Wikia is not accessible if you've made further modifications. Remove the custom ad blocker rule(s) and the page will load as expected.